What's going readers, as a Digital Entertainment blogger, I am always striving to learn about how different gaming blogs are ranked online, I came across this awesome website called Blog.feedspot.com this is the number one website for blog rankings on the internet which features the best types of blogs from a lot of different business industries such as sport blogs, travel blogs but in this case gaming and entertainment blogs which is the niche I am in.
Blog.feedspot.com works by ranking the top 20, 50, 100 and 200 blogs, I entered my blog Scorpzgca.com and my blog made it on to the list ranked at number 118 check it out here this is a great accomplishment to be acknowledged for writing and editing articles about Digital Entertainment and providing news for all my readers and followers. Notable mainstream websites such as IGN, Official PlayStation Blog, Xbox Wire, Kotaku, Polygon and My Nintendo News are also ranked on this website too, so this is a pretty big deal.
Thank you for the continued support more articles on the way.
Check out the award I got below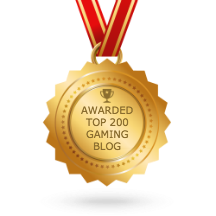 ---
Date published: 26/11/17
Written by: Joseph Opoku 
Source: (1)  Check out Blogfeedspot.com